About the Director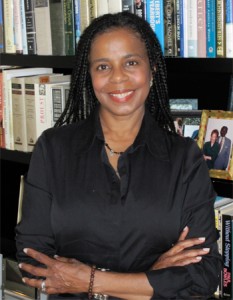 Pamela Sherrod Anderson is an award-winning writer, filmmaker, playwright, journalist and educator. She has worked as director, assistant director, producer, script supervisor and consultant on independent films.
Ms. Anderson was among those writers honored at the Chicago Public Library Foundation's Carl Sandburg Literary Awards in October, 2012. She was recently selected to be in Kartemquin Film's and Community Film Workshop's Diverse Voices in Documentary pilot program.
Her first feature-length documentary, "The Curators of Dixon School," made its debut at the 2012 Black Harvest International Film Festival in Chicago and received the Black Harvest Audience Award for Best Feature. Ms. Anderson wrote, directed and co-produced the documentary.
She also wrote and directed the short film, "Getting Directions," which was an official 2006 selection at the Golden Gate Fiction & Documentary Festival in the category of art direction. A 2006 Chicago Short Film Festival selection, it also was screened at the Reel Sisters Film Festival in Brooklyn, the Spike Lee Theater, the Brooklyn Arts Council International Film & Video Festival, the Black Harvest Film Festival, the Annual Women of African Descent Film Festival and at Le Kadjinol Theater in Dakar, Senegal.
Ms. Anderson has written and directed stage plays and screenplays, including the feature script "Natchez," that won an America's Best Writers Foundation award presented by filmmaker Oliver Stone.
As a journalist, she has been an editor, reporter, photographer and features staff writer. Ms. Anderson has worked at the Chicago Tribune, United Press International news service, Lansing (Mich.) State Journal, Chicago Citizen and Independent Bulletin Newspapers. She has also been a contributing writer to Essence Magazine and a contributing writer to the book, "Black Women's Health: Speaking for Ourselves." She contributed to the White House years research for the Emmy-awarded WTTW-TV documentary, "Paper Trail: The First 100 Years of the Chicago Defender."
As an educator, she teaches in the Film and Video Department at Columbia College in Chicago and at DePaul University in the School of Communications.