My Interview With Time Out Chicago Kids
---
One of the best things about researching and filming The Curators of Dixon School was meeting the fantastic children of Dixon Elementary. Watching them grow, change and interact was like watching living, breathing pieces of art.
I recently had the chance to sit down with Time Out Chicago Kids to discuss the film, the students and the amazing staff at Chicago's Dixon Elementary School. This interview originally appeared on the Time Out Chicago Kids website: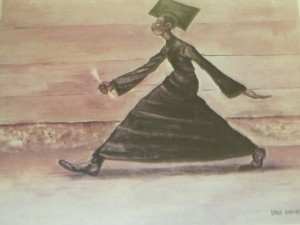 The Curators of Dixon School documentary director | Interview
by Tyler Leeds
This year, Gene Siskel's annual Black Harvest Film Festival has an emphasis on children. While the story of a young chess prodigy may steal the show, another film focuses on the potent role art can play in the lives of young students. The Curators of Dixon School, which screens on Thursday at 6pm, is an 80-minute documentary about Arthur Dixon Elementary public school, located in the Chatham neighborhood on the South Side. The interior of Dixon is covered with art and looks more like the Barnes Foundation than a CPS building. The works are unprotected, and the school believes this encourages students to consider the collection their own, instilling a sense of responsibility in everyone from kindergarten up to eighth grade. While Dixon's programs are a success, the film also explores budget cuts that threaten Dixon's mission and the difficulty of bringing a similar approach to another South Side school. We spoke with the film's director, Pamela Sherrod Anderson, about her work.
How did you get involved in this project?
Oftentimes when you hear someone has a collection, it's usually a dozen or so pieces of good art. When I visited the school to see the collection, I was surprised to see it was more than 200 works, including oils, watercolors, prints, pastels, textiles and sculptures. As soon as I saw that, I became even more intrigued and wanted to learn how they used all that wonderful art in the school.
How did you first hear about the collection?
My background is in journalism, and I had reviewed a book on collecting African and African-American art. The book was called African Art: The Diaspora and Beyond by Daniel Parker. After reviewing the book, he said, "If you're interested in art collectors and art collections, you should stop by Dixon," and that's what first brought me to it.
Do you have a favorite piece at Dixon?
That is so hard. It really is. When you walk through that school, each piece grabs you and tells a story. What really grabbed me as I visited the school and did legwork in terms of preparing to tell the story, is the students and the teachers. This may be too colorful, but I really saw the kids as art. I really saw that in the two-year period I spent with them.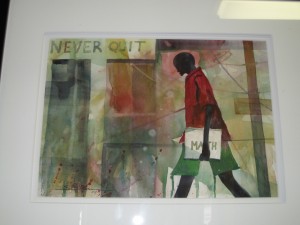 One piece of art appears frequently in the film. The piece has the phrase, "Never quit math," written on it. Why did you focus on this piece?
It's a watercolor by Stacy Brown. One of the themes in that image that really comes across is, "You don't want to give up." It's one of the works that really inspires the kids and really encourages them and speaks to them. The first floor of the school is where the early grades are. A lot of the artwork on the first floor speaks more to those little people. As you move up into the school—it's an old fashioned school, the three floors really feel like five—when you get up to the second floor, you see artwork that is more mature. On the third floor where you have the seventh and eighth graders, you have work that speaks to them.
How did the younger students move around and interact with the art?
It was almost musical. You would see that as they walked through the halls, it was almost as if they could feel music in the pieces. Maybe that's because the pieces on the first floor are sculptures. One of them is a big, tall African drum. You would think with kids maybe they would bang on it, but these kids really respect it and really own it as their collection.
There is a scene where a parent calls her young daughter "retarded." How did you approach such difficult moments?
Not all children leave a home where there are terms of endearment spoken to them. When they come into the school environment, it is a second home for them. When they come into a home where there is beauty, it is a chance for them to shake off the negativity they are getting in the home environment. If the parents in their lives speak that way at home, they are not going to change the way they speak to them in public. In that particular case, the school principal took the adult away and chastised her.
The film also follows the stories of a few students. How did you select which students to focus on?
Over the two-year period we were there, we started to see students who really interested us. There's a girl we focus on who is a seventh grader at the time, Octavia. The two boys we focused on were Methuselah and Gary. Methuselah was interesting because he had come from Liberia. It wasn't just a matter of coming to a new country and a new city; it was also a matter of a new school. For him, it was interesting to see what kind of transformation he went through, not just a change in height but a change in perspective.
Where do you hope to take this film?
We are looking forward to it continuing on in film festivals. We are very happy about the Black Harvest Film Festival. It does such a great job of exposing black filmmakers and stories within the African diaspora. After we have this journey, we hope to take it to other festivals, and we are seeking distribution so we can get it to as large an audience as possible. We see it as being a really helpful opportunity for educators to see what one school has done to make sure art stays a part of the picture for kids. Even if you can't take everything from Dixon, you can take elements from Dixon.